To get to Benjamin and Ericaís House
99 Essex Street, Marlboro, MA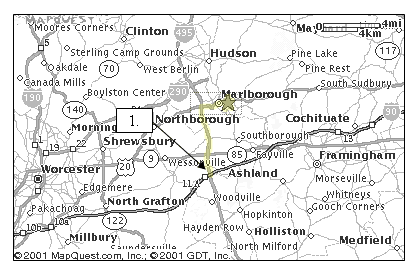 From route 90 take route 495 North.

Get off at exit 24A, route 20 East Marlboro, Lakeside Ave. Continue on Lakeside around Lake Williams. Lakeside turns into Main St.

You will come to an intersection where route 20 forks off to the right, stay on route 20.

Take a right at the Marlboro Market onto Main St. Youíll immediately see Verizon in front of you, take a right onto Maple St. Look for Kane Self Storage on the right, make a left onto Essex Street. Go through a stop sign, the house is on the right, tan with a farmerís porch, number 99.